Slot Goldslam
The range of slot machines in Slot Planet is large and then it is mainly the modern video slots. However, classic slot machines are also available in the range that is now being expanded with the arrival of another classic. In the game range, space has been made for the arrival of the classic slot machine Goldslam. That this is a classical performance of the gambling with spinning reels and rows is soon clear when a first glance at the game is thrown. There is a special feature to mention and that is that this slot machine has extra features to win even more money.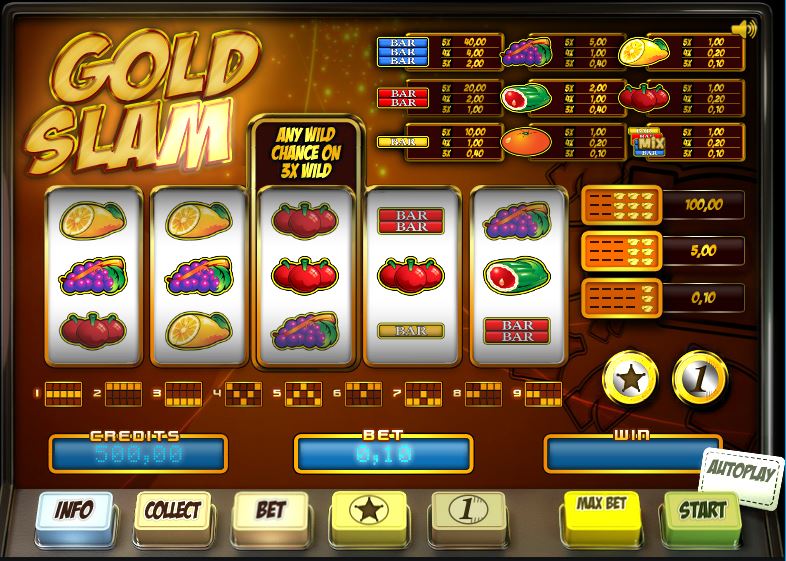 Golden 7 symbol
Goldslam is a slot machine that offers a game with five reels and three rows, on which various types of fruit symbols and bar symbols appear, but where there is also room for other special symbols, such as the Golden 7 symbol and the nudging wild symbol. These symbols offer the opportunity to win even more money than when a combination of three equal fruit symbols arise. Incidentally, the price table can always be consulted to see which fruit symbols or bar symbols in a winning combination yield the most money.
This immediately makes it clear that the blue bar symbols can generate a lot of money, just like the red bar symbols. Depending on the type of fruit symbol, the profit is also higher or lower. For example, the oranges are worth slightly less than the grapes or melons in an equal winning combination of symbols. The Golden seven symbols are not on all roles, but only on the third, fourth and fifth roles. The nudging wild symbol is again only available on the third reel and therefore does not appear on the other reels.
If a Golden seven symbol appears on the reels from left to right, it will result in a price. Incidentally, the wild symbol offers the opportunity to replace other symbols if that leads to a winning combination. If a prize is won, then the opportunity is offered to make more money. There is a gamble button available that can be used to take the gamble and make more money and run the risk of losing the money.
Bet options
As with every game, just like the Goldslam slot machine, there is a default setting when opening the game. Players can always watch gambling before starting to see if the settings are tailored to their needs. If this is not the case, then the settings can be set for the start according to your own judgment. For example, there are different betting options available so that you can play with the minimum amount or with more money. The minimum coin value to gamble on Goldslam is 0.10 euro and a maximum of 25 euro can be played per game round. The betting option can be changed with the bet button. It is certainly recommended to play with surprisingly exciting features in Slot Planet on this classic.